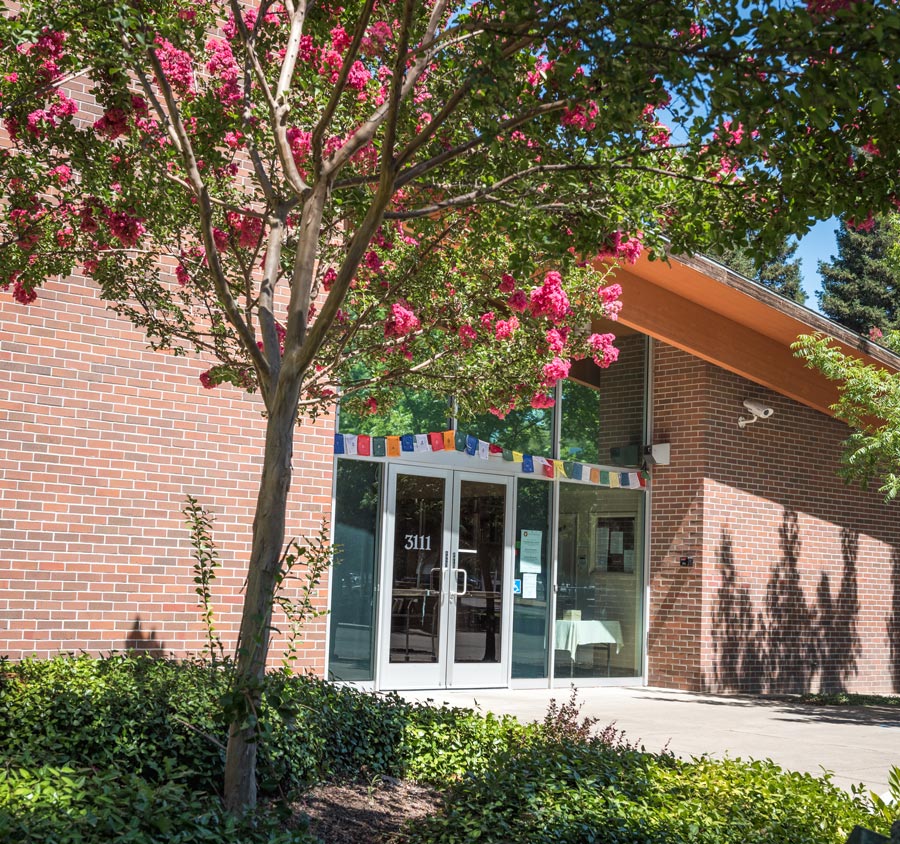 Our second annual Interdependence Day ice cream social was a sucess ~ a celebration of our donors, volunteers, and all sangha members who make the Center our home.
It's been a busy few months since the last edition of the Sacramento Dharma Center News. We'd like to update you on some of the changes going on around here.
We're Now Open Three Mornings a Week—Tuesdays, Wednesdays, and Thursdays
Start your day with open sitting in the Meditation Hall led by one of our sanghas. Or just drop by later to meditate, to visit our library, to enjoy a cup of tea, or to sit under a tree.
Open Morning Sittings
Tuesdays 7:00 to 8:15 a.m. Led by Sacramento Buddhist Meditation Group
7:00 Sitting
7:30 Walking
7:45 Sitting
Wednesdays 7:00 to 8:00 a.m. Led by Sacramento Insight Meditation
7:00 Sitting
7:45 Dharma Conversation
Thursdays 6:00 to 7:25 a.m. Led by Valley Streams Zen Sangha
6:00 Sitting
6:30 Walking
6:40 Sitting
7:10 Brief Service
Open Drop-in Hours Come by and enjoy the Dharma Center
Tuesdays 9:00 a.m. to 1 p.m.
Wednesdays 9:30 a.m. to 1 p.m.
Thursdays 9:30 a.m. to 12 noon
SDC Library
The library is now open. Located in the former teller area, you can browse, read, and check out Buddhist books and magazines whenever the building is open. On Tuesday mornings from 9 to 11, come by for Teatime in the Library—a chance to have tea and do handicrafts. Bring your knitting, needlework, or other handicraft projects to work on with others.
Bricks and Mortar, Grass and Trees
Our building and grounds quietly await the plans we devise in envisioning. Nevertheless, subtle improvements are taking place. Aided by a rebate from SMUD, soon most of the lights inside and out will have been converted to LED. An audio team has been formed to come up with an amplification system for the Meditation Hall that all three sanghas can share.
Outside, the pedestrian gates on either side of the building now have push bars-to exit, just push. The shed in the backyard now has electricity and lights, and is the perfect place to charge our new battery-operated lawnmower. You may have noticed the new picnic table, where you can eat and watch the birds that are attracted to our brush piles.
With the rainy season over, some of the the sprinklers have been reactivated-not counting the occasional downtime to repair out-of-control watering. And a more prominent (temporary) SDC sign is in progress on Wissemann Drive.
Hozan Senauke Workshops
Hozan Alan Senauke of the Berkeley Zen Center has been conducting a series of three classes based on the book The Buddha's Teaching on Social and Communal Harmony. These workshops have been a great chance for members of the three Sustaining Sangha Boards and other leaders in their Sanghas to share ideas, learn about building harmony, and get to know each other. Insights gained through the readings and classes will be a benefit to each Sangha.
Change
Before we came together under the same roof, each of our three Sanghas was used to going it alone. Coming together has brought a lot of joy and relief (we no longer have to worry about eviction), and also a period of adjustment as we work out shared spaces and rules. We'd like to acknowledge that this process of change and adaptation will be on-going. In fact, when Shunryu Suzuki was asked to reduce Buddhism to one phrase, he answered, "Everything changes." We will listen, adjust, and live in change together. (And by the way, trash does not go in the recycling bin & and food waste goes in the compost.)
Lost and Found
What do 16 water bottles, some hats, socks, earphones, glasses, and a multitude of coats and jackets have in common? They are all in the lost and found cupboard, located in the small office just off the entry into the former teller area. Please come by and claim your items.
Some new and ongoing programs at SDC:
Dharma en Espanol
A new Spanish-language Sangha, open to all, meets the fourth Friday of every month from 6:30 to 8:30 p.m. Si hablas o estudias español, ven a meditar y estudiar el dharma con nosotros. For more information, contact [email protected] or [email protected].
Climate Sangha 
Beat the heat! Everyone complains about the weather, goes the old joke, but nobody does anything about it. As the signs of global warming and climate disruption multiply, the Climate Sangha offers a way to use Buddhist practice to face the changes. Meeting on the fourth Tuesday of every month from 7 to 9 p.m.
People of Color Sangha
On behalf of all Persons of Color [POC] who came before us and for the benefit of those who are yet to be born, this Sangha is dedicated and committed to awakening our Buddha-wisdom to uplift, strengthen and appreciate ourselves within the diversity of humanity. Meets the first Friday of every month from 6:30 to 8:30 p.m.
Family Sangha
If you have children, grandchildren, nieces, nephews, or young friends with whom you'd love to share the path of kindness and mindfulness – please bring them and stay for the adult sit and discussion. Comes together every second Sunday from 10:00 a.m. to 12 noon.
BACK TO NEWS & EVENTS